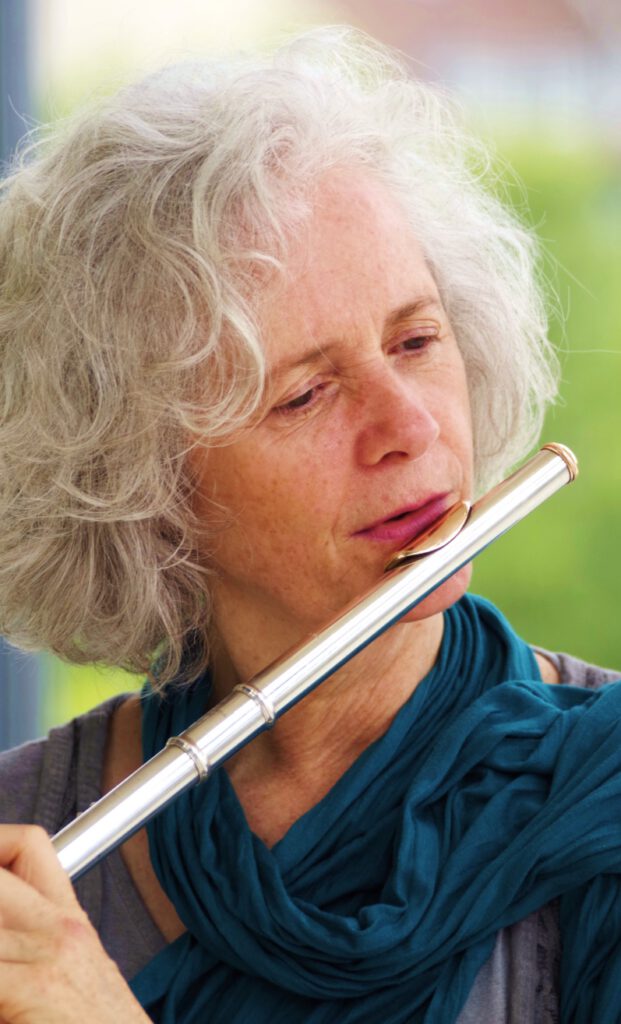 Music Events:
Music for Your Special Occasion
Concerts and Events
MUSIC EVENTS
Music for your special occasion, including concerts in your living room!
Solo, Duo, Trio, Quartet
Classical, Latin, Jazz, Pop, New Age, as well as music from Brasil, Italy and India.
Other styles by request.
Ein "Touch of Class"
Solo: Flute, voice and Keyboard - perfect for an intmate atmosphere.
Romantic atmosphere
Duo: Flute, Voice, and/or Keyboard together with another musician on guitar, piano or percussion.
A Little Rhythm
Trio: Flute, Voice, and/or Keyboard together with tow other musicians on guitar, piano or percussion
Price: Starting at 100,-€
REPERTOIRE:
REPERTOIRE: Classical, Jazz, Pop, music from Brasil, Italy and India.
Looking for something else? Send me a request!
CLASSICAL:
T. ALBINONI: Adagio
J.S. BACH: Jesus Joy of My Desiring
Air from Suite Nr. 3
Badinerie (Suite in B minor)
Sonatas for Flute
Partita in A Minor
Suite for Gamba
Wachet Auf
B. BARTOK: Hungarian Suite, Romanian Folk Dances
L. BEETHOVEN: Ode to Joy
G. BIZET: from "Carmen": Fantasy, Prelude, Habanera, Seguiduilla
L. BOCCHERINI: Menuett
C. BOLLING: Irlandaise
A. BORODIN: Polovetsian Dance by Prince Igor
J. BRAHMS: Hungarian Dance
F. CHOPIN: Nocturne, Walzes in Eb,A minor, C Minor, Minute Waltz on Db,
Prelude in A Major.
C. DEBUSSY: Syrinx, L'Après Midi d'une Faune, Au Clair de Lune
G. FAURE : Berceuse, Dolly, Morceau de Concours, Pavane, Sicilienne
G. GERSHWIN: Preludes 2 and 3
C.W. GLUCK: Menuett and Dance of the Blessed Spirits
E. GRIEG: Morning, Solveg's song
G.F. HÄNDEL: Sonatas
J. IBERT: Entr'acte, Pièce
J. LULLY: Marcia del Ré
F. LISZT: Hungarian Rhapsody
M. MARAIS: Les Folies d'Espagne
V. MONTI: Czardas
W.A. MOZART: Concertos in G and D, Eine Kleine Nachtmusik, Turkish March (Rondo Alla Turca), Adagio und Allegro (Flute Quartet), Andante.
From the Operas: Il mio tesoro, Là ci darem la mano, Non piu andra,Voi che sapete
PACHELBEL: Canon
F. POULENC: Sonata
M. RAVEL: Bolero, Habanera, Daphnes and Chloe solo, Pavane
C. REINECKE: Undine Sonata
J. RODRIGO: Theme from the Guitar Concerto
G. ROSSINI: La Danza, Figaro, Una voce poco fa, Preludien: The Barber from Seville, The Thieving Magpie, William Tell, The Italian in Algeria
E. SATIE: Gymnopedie
I. STRAVINSKY: Pulcinella Oboe Solo
G.P. TELEMANN: Sonatas and Duets, Suite in A Minor: Les Plaisirs, Menuets,
Passepeids, Polonais
J. QUANTZ: Sonatas and Duets
A. VIVALDI: Themes from The Four Seasons: Winter, Autumn and Spring
JAZZ:
Autumn Leaves, Alice in Wonderland, Black Orpheus, Caravan, Chelsea Morning,
Crystal Silence, Green Dolphin Street, La Fiesta, Lullaby of Birdland, The Man I
Love, My Favourite Things, My analyst Told Me, Night and Day, A Night in Tunisia, They Can't Take that Away from Me, Somewhere Over the Rainbow, 'Round Midnight, Satin Doll, Sixteen Tons, Summertime, Sweet Georgia Brown,Swingin' Shepherd Blues, Take Five,
GERSHWIN – PORGY and BESS: Bess, You Is My Woman, I got Plenty O'Nothing, I got Rhythm, It Ain't Necessarily So, My Man's Gone Now, Oh Lawd, I'm on My Way
BRASILIAN:
ZEQUINHA ABREU: Tico Tico
ANTONIO CARLOS JOBIM: Corcovado, Desifinado, Meditazione, Wave
One Note Samba, Girl from Ipanema
HEITOR VILLA LOBOS: Bachianas Brasilieras
KOAMA: Lambada
JORGE BEN: Mas Que Nada
ITALIAN:
Azzuro, Carnevale di Venezia, Cicirinella, Funiculi, La Pizzicarola, Quando Quando, Reginella
INDIAN:
Sat Guru Brahma (Sai Baba version), Siri Siri Akaal (trad.), Sita Ram (Jai Uttal version), Ra Ma Da Sa (Snatam Kaur version), Moola Mantra (latin version) , Om Namo Narayanaya (Deva Premal version), Govinda Hare(Satyaa and Pari version), Tumi Bhaja Re Mana (Manish Vyas), Ananda (anon.), AmAr Jivan (anon.)
POP:
THE BEATLES: Blackbird, Fool on the Hill, Let It Be, Something, Imagine
LEONARD BERNSTEIN: I Want to be in America
JOSE FELICIANO: Sunny
BILLY JOEL: Just the Way You Are
CAROLE KING: You've Got a Friend
STEVIE WONDER – Isn't She Lovely, You Are the Sunshine of My Life
Jamaica Farewell, Greensleeves, Irish Medley, Scarborough Fair, Tea for two, El Condor Pasa, Peanut Vendor, Sakura, Cabaret, New York New York, Fiddler on the Roof, Oh Danny Boy, Pink Panther
Concerts and Events
Note on the privacy of Youtube videos see Privacy policy, paragraph 8
Mozart Quartet in A Major
Georg Philipp Telemann
Concerto for Flute, Recorder. Strings and Basso Continuo in E minor

Johann Sebastian Bach
Brandenburg Concerto 5 in D Major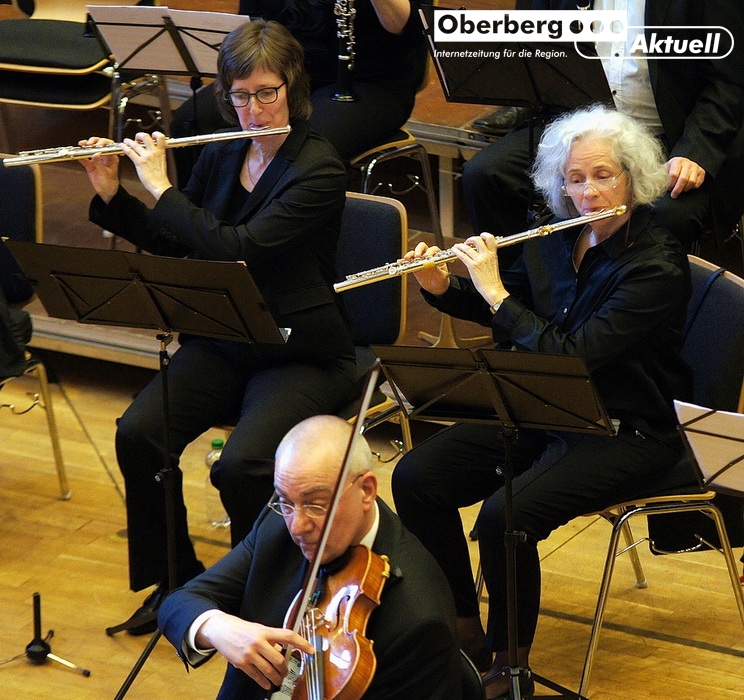 ---

On YouTube: https://www.youtube.com/watch?v=RWXYFw7oZcE
---

On YouTube: https://www.youtube.com/watch?v=V-c8owSJAPE
---
Note on the privacy of Youtube videos see Privacy policy, paragraph 8
Kathleen Baker with the Yachad Chamber Orchestra
Marijampole, Lithuania, May 25 and 26, 2018
Ganey Tikva, Israel, June 17, 2018
Bergisch Gladbach. November 10, 2018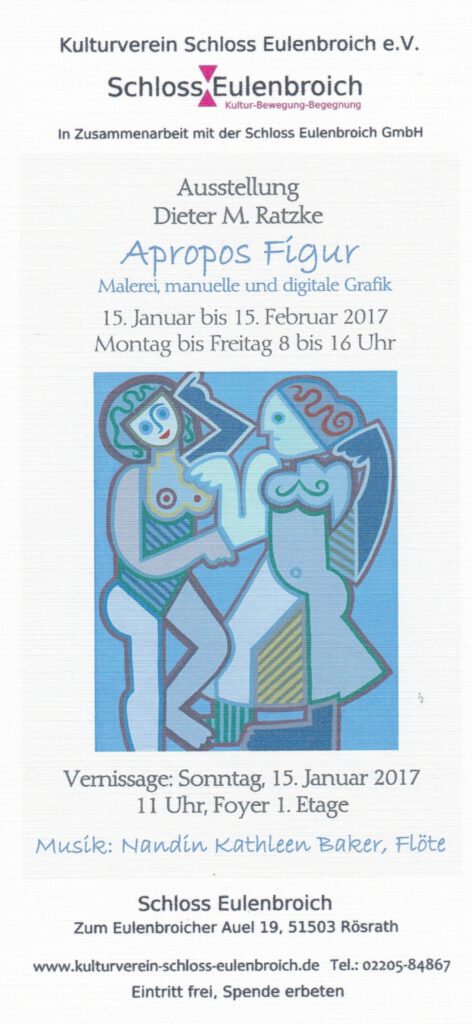 15.1.2017, 11 Uhr Schloss Eulenbroich – Austellung mit Musik "Apropos Figur"
Dieter M. Ratzke
Painting, manual and digital graphics
January 15 until February 15, 2017
Monday to Friday 8 am to 4 pm
Exhibition Opening: Sunday January 15, 2017, 11 a.m
Music: Kathleen Baker
Schloss Eulenbroich, Foyer 1st floor
Zum Eulenbroicher Auel 19, 51503 Rösrath, Germany
"Dein Flötenspiel wurde allseits
sehr gelobt, weil es zur Atmosphäre in dem engen Raum sehr beigetragen hat. Danke noch einmal!" Mechthild Ratzke, Vernissage in Zusammenarbeit mit der Schloss Eulenbroich GmbH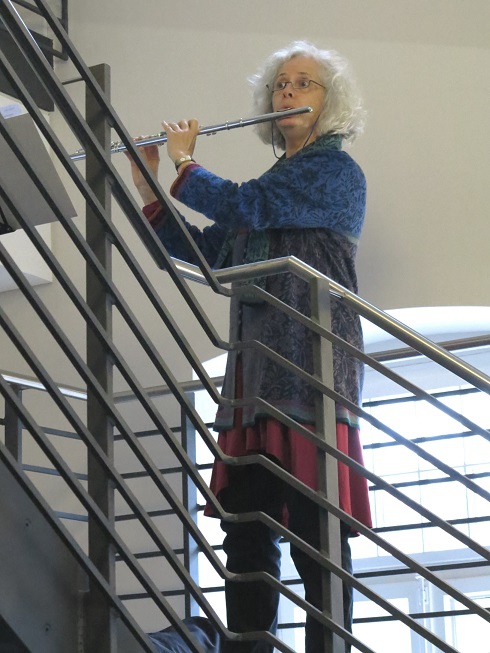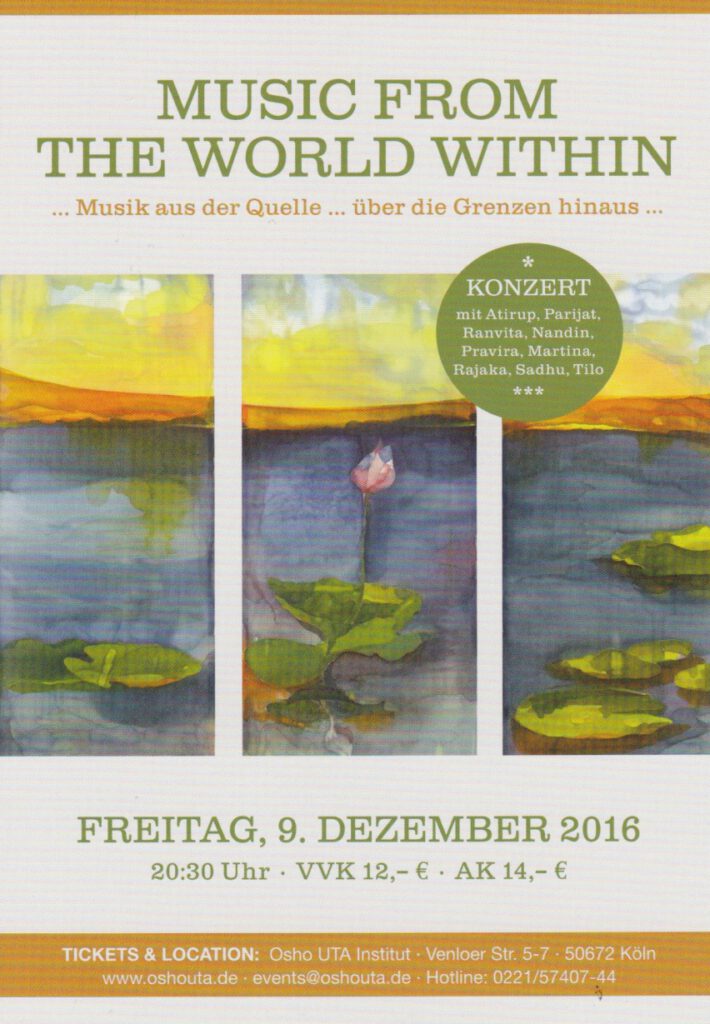 Music from the source...beyond the borders...
Music from the World Within
December 09, 2016, 8:30 pm
5-7 Venloer Str. , 50672 Cologne
There may be the quiet tones of a shakuhachi
on a lonely mountain top...and then again the flute flying high above the deep and warm guitar tones.... and then again, who knows? let us be carried away into the endless expanse of the desert by the sounds of frame drum and aoud...
With Atirup, Parijat, Ranvita, Kathleen, Pravira, Martina, Rajaka, Sadhu, Nandin and Martin.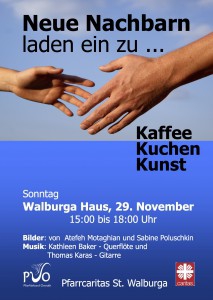 New neighbours invite you to coffee, cake and art
On the 1st Sunday of Advent, our new neighbours invite us to cake specialities from their home countries. In addition, paintings by Atefeh Motaghian and Sabine Poluschkin will be exhibited. Musical accompaniment by Kathleen Baker, flute, and Thomas Karas, guitar.
November 29, from 3 pm to 6 pm at Walburgahaus, Kolpingplatz
D-51491 Overath

Kunstausstellung "Kunstsplitter"
17. und 18.10.2015
In the Walburgahaus, Kolpingplatz,
51491, Overath
October 17, 2015 – from 12 am to 6 pm
12.15 - approx. 13.00 Opening with musical accompaniment by Kathleen Baker - flute and Thomas Karas - guitar
October 18, 2015 – from 11 am to 5 pm
9 exhibitors present:
Acrylic paintings and other techniques, porcelain painting and ribbon embroidery, ceramics and jewellery.
---

Sunday, November 08, 2015,
5.00 p.m., St. Bernhard Church
Höftestr. 24, Münster-Angelmodde
Concert for voice, flute, clarinet and harmonium with world premieres
Works by Josef Rheinberger, Louis Vierne, Louis Lefébure-Wély, Léon Boellmaann, Angelika Sarrazin, Guido A. Neumann and Arne Tigges.
Annemete Hein - soprano
Kathleen Baker - Flutes
Guido A. Neumann - clarinet
Arne Tigges - harmonium
…….
"Westfälische Nachrichten" Zeitungskritik von
Andreas Hasenkamp:
Music, physics and poetry
The concerts in the church of St. Bernhard have something special. If you appreciate hearing music by greats of music history in one evening and seeing world premieres by composers up close, partly played by their creators themselves, this is the place for you. This time it was a concert for voice - rare in St. Bernard - with flute, clarinet and the Mannborg harmonium.
Two works by the composing musicians made the start: Arne Tigges "Trio in d", then Neumann's "Beteigeuze" op. 1-II. The naming after a star in the constellation Orion is not a gimmick, it is a poem set to music, written in 1987, sung by Hein. Physics becomes poetry here - "Bringer of airless winds, breath of charge streaming into space. . ." Poetry strongly characterised the programme: further world premieres of works by Tigges connected the 40 listeners with texts by Claudia Ratering and Matthias Claudius. Angelika Sarrazin was a guest again: her "Liebeslied" in B flat major was played by alto flute, clarinet and harmonium.
Fotos auf dieser Seite: KulturKurier, Sinfonieorchester Bergisch Gladbach, Kulturverein Schloss Eulenbroich,
Osho Uta Institut, Pfarrcaritas St.Walburga, eigene Fotos
Note on the privacy of Youtube videos see Privacy policy, paragraph 8